Chucks SYNCHRO|T - Tapping Holder
The Perfectly Optimised Tapping Chuck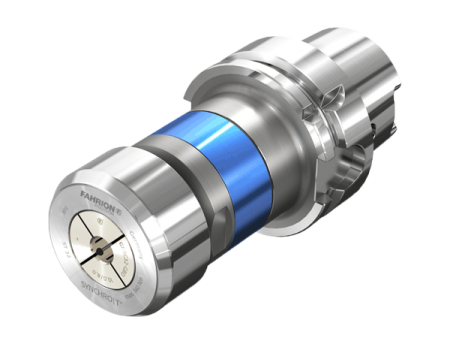 As precise as everything from FAHRION
SYNCHRO|T tapping chucks compensate for pitch differences of the tap and the synchronous spindle, as well as for the thread tolerances of the tap, and provide for a cushioning effect between the tool and the spindle during synchronised tapping (rigid tapping) on processing centres with synchronous spindles.
Versions entirely in accordance with needs
With more than 40 different shaft forms (DIN 69871 AD/B SK40 and SK50, DIN 69893/ISO 12164 HSK A40 to A100, MAS/BT JIS B 6339 AD/B SK40 and SK50 and cylindrical shafts Ø 20, 25 and 32 mm) we offer a broad range of versions.
Thanks to the outstanding product properties, drill service lives are prolonged and machine down time is reduced, just to mention a couple of the advantages that you gain.
Properties
The FAHRION SYNCHRO|T tapping chucks feature the following properties:
minimum length compensation on compression/tension (± 0.5 mm)
high radial rigidity due to double bearing
high concentricity
high clamping force due to clamping by tap collets with internal square drive
separate compression/tension mechanism
defined adjustable compressive/tensile forces
compact, wear-free design
long service life
internal coolant feed possible in all types
no clamping nuts with sealing discs are required when using coolant, since the FAHRION GERC-GB tapping chucks are generally supplied with seals
minimum quantity lubrication (MQL) available on request
And what do you and your company gain? These are the benefits to you.
Benefits
Absolute process reliability due to minimum length compensation
low risk of breakage
longer service life of the taps by up to 150%
improved thread quality
reduced machine downtimes
In summary
In order to achieve the optimum cutting result, the FAHRION tapping chucks SYNCHRO|T should be used on machines with synchronous spindles, despite use of the latest controllers for the extension of service life and improvement of quality.